Transport Chair and Wheelchairs
Ambulation devices are widely available, but choosing the right one - especially as a first time user - can be overwhelming. There are several different options with various features that can significantly impact accessibility, utility, and comfort.
Wheelchairs and transport chairs both are designed to help increase mobility and convenience for elderly and disabled individuals. Knowing the differences between the two and considering the needs of the user will aid in the decision to choose one over the other.
To ensure choosing the best wheelchair or transport chair, we've created a guide to help you determine which mobility aid is right for you!
What's the Difference Between a Wheelchair and a Transport Chair?
WHEELCHAIR

Fitted with four wheels, two small front wheels and two larger rear tires topped with rotating handrails

Self-propelling, hand rims on rear wheels allow users to push themselves forward

Chair is built of heavy-duty reinforced steel construction for prolonged use

Features a wide range of accessories: trays, cup holders, bags, cushions, oxygen attachments, etc.

TRANSPORT CHAIR

Fitted with four small wheels, rear wheels are fixed (do not swivel) and are equipped with brakes which can be engaged as the user enters or exit the chair

Requires the assistance of another person to push the chair from behind

Lightweight and easy to store, the chair is designed to fold compactly in size

Narrow frames allow the chair to easily pass through most doors and aisles
When choosing between a wheelchair and a transport chair, look for differences in the rear wheels. Transport chairs have 8"-12" rear wheels that cannot be reached while sitting in the chair. Wheelchairs, however, are built with larger 18"-24" wheels topped with an easy-to-grip, rotating handrail that allow users to propel themselves forward. Transport chairs require the assistance of a second person to push from behind.
There is also a significant difference between braking systems. Wheelchairs often feature a push-lock wheel mechanism, locking the chair in place for users to safely enter or exit the chair. Transport chairs are equipped with brakes on the handles located on the back of the chair. This feature enables the person pushing the chair to apply the brakes more easily. Handbrakes help navigate steep slopes and a wider variety of outdoor terrains.
Suited for longer-duration sitting, most wheelchairs are equipped with padded armrests, backrests, and seats for optimum comfort. Transport chairs, however, are travel-friendly; The lightweight and compact design easily folds to fit in a car trunk, making it less bulky than a standard wheelchair.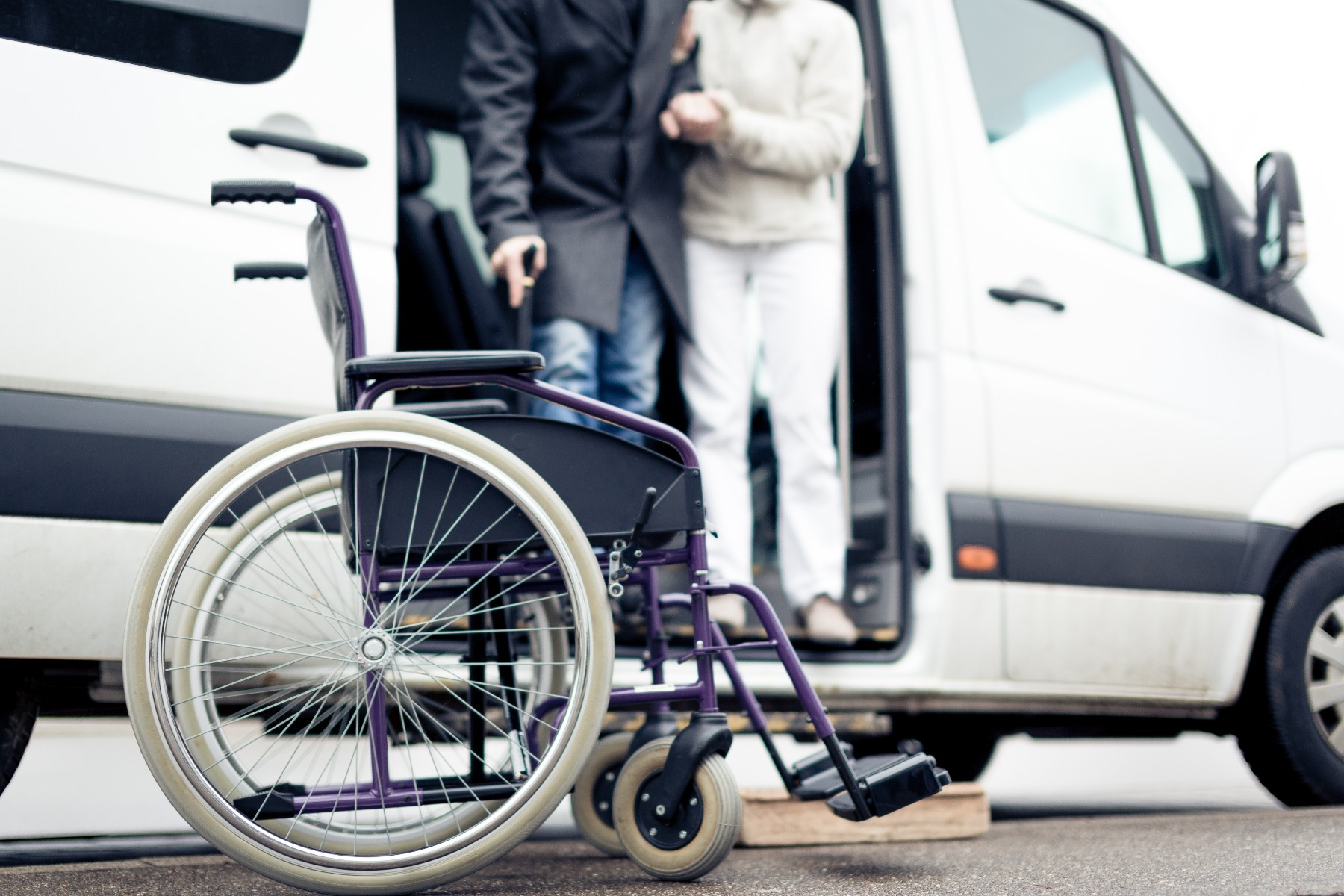 What To Consider When Choosing Between the Two...
When choosing between a wheelchair and a transport chair, there are a few questions you need to consider that change from person to person. Do you require assistance getting in and out a vehicle? You might want to consider a transport chair that is lightweight, flexible, and easy to fold, lift, and store in a car trunk. Consider the environment in which you plan to use the chair. Does it have narrow doors and hallways? If so, you will want a transport chair that is narrow enough to navigate these pitfalls.
For someone with limited mobility who may not be able to walk unaided, a wheelchair can reduce the risk and fear of falling in the home or outdoors allowing you to move around with increased confidence. A wheelchair can also provide the user with a more active lifestyle, allowing them to partake in daily activities without additional assistance.
If you prefer a wheelchair, we recommend the: ProBasics K1 Standard Wheelchair
ProBasics K1 Standard Wheelchair is constructed of a heavy-duty reinforced steel in black powder coat finish for strength and durability. Chair features push-to-lock wheel locks and precision sealed bearings in the front and rear wheels, ensuring long lasting performance and reliability. In addition to locking wheels, the chair includes tool-free swing-away footrests with heel loops or elevating padded leg rests with composite footplates. Available in multiple seat widths: 16", 18" and 20".
If you prefer a transport chair, we recommend: ProBasics Transport Chair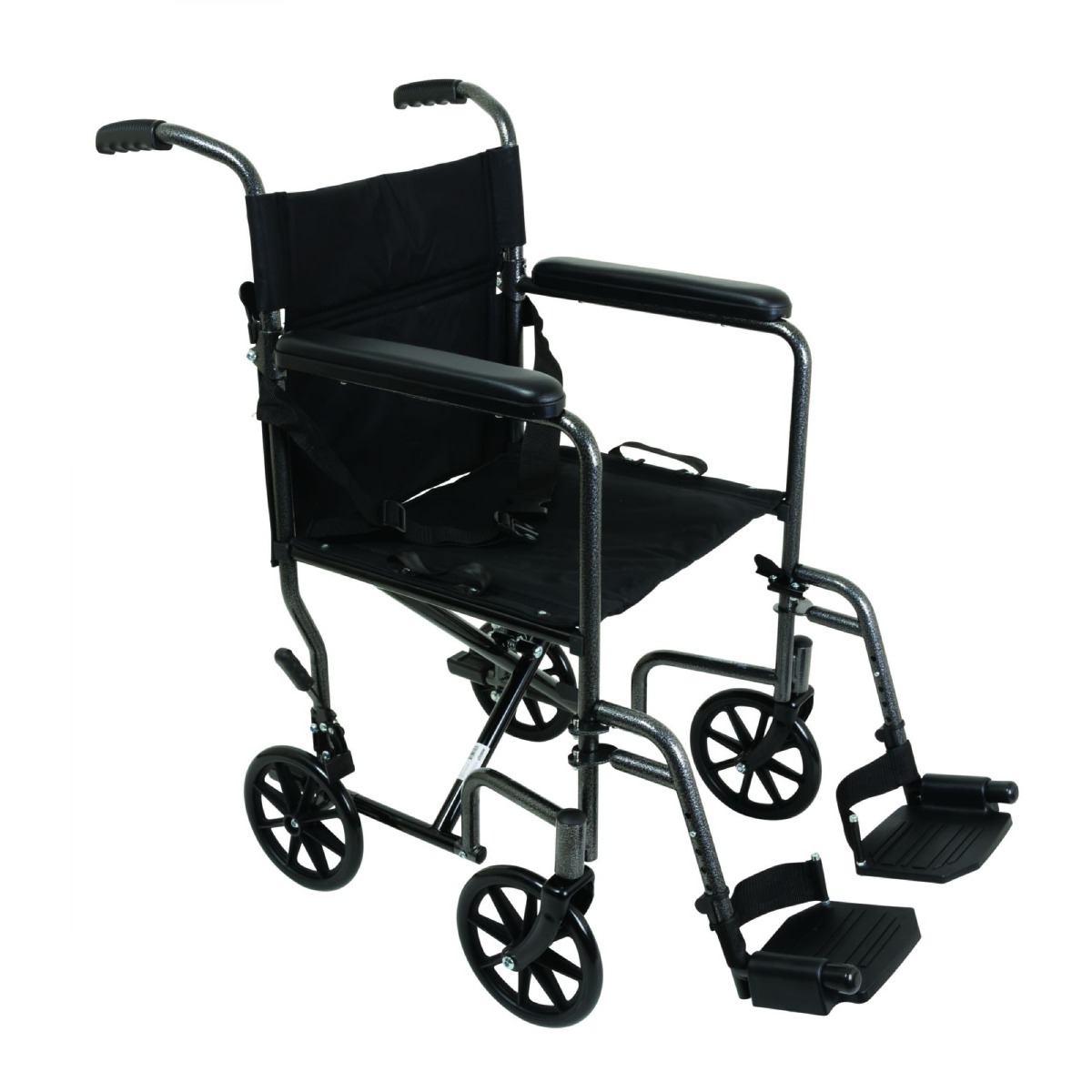 Making transportation effortless, this lightweight transport chair features flared handles and handy back-release hinges to allow the back to fold down flat and compact for storage. The silver vein carbon steel frame with permanent rear axle provides strength and durability. For added safety, the chair is equipped with composite footrests and heel loops to keep legs and feet stable throughout transportation. The push-to-lock rear wheel locks are designed to secure the patient in place for easy entrance and exit from the chair.
Not sure either of those is the right fit? Browse all of our wheelchair options.
Now that you've found the right wheelchair, find the perfect wheelchair cushion to use with it!
References

Sellers, Margaret. (2019). Transport Chair vs. Wheelchair: What's the Difference? Mobility Deck. Retrieved from https://bit.ly/2AfOcp4.

Anonymous. (2019). What is the Difference Between a Wheelchair and Transport Chair? Chair Institute. Retreived from https://bit.ly/3fEUdw1.
Medical Disclaimer: The information provided on this site, including text, graphics, images and other material, are for informational purposes only and are not intended to substitute for professional medical advice, diagnosis or treatment. Always seek the advice of your physician or other healthcare professional with any questions or concerns you may have regarding your condition.